AGRO TAMI, a.s. (Inc.) Nitra
The Quality is a satisfied customer.
- We keep our competition by having our customers satisfied with quality of our products.
- We require high quality of ingredience from our supplierers.
- We meet the legislation of the EU, BRC standard, strict Slovak regulations.
- We protect the environment.
- We focus on quality for customers.
- High level of education for our employees to produce the best products.
The TAMI brand
The TAMI brand is a joint project between the dairies Tatranská mliekareň in Kežmarok and AGRO TAMI, a.s. Nitra. These are two strong Slovak partners that have united in order to create a complete range of dairy products. Both companies have a long history and are both stable leaders on the Slovak dairy food market.
The TAMI brand covers a wide portfolio of products: cheeses, yogurts, spreads, fresh and UHT milk, creams, butter, desserts, whipped creams, curds.
The company is an innovative leader in the Slovak market – it keenly follows new trends and applies them to its portfolio, either in the form of a new range of products or by widening the choice of flavours.
The TAMI brand supplies products to the largest and most demanding of clients, such as TESCO, Kaufland, COOP, LIDL, BILLA, AHOLD and others. They supply products not only under the TAMI brand, but also as supermarket own brands. They are so satisfied with the range, quality and last but not least the taste that they continue and in some cases expand their range of own brands
History
Nitra Dairy has more than 70 years of tradition. The first operation for the production of dairy specialities was established in this town under the Zobor Mountain in 1932. Since then, production has continuously expanded. The owners of the company as well as its legal form have gradually changed. The previous owner was the Dutch company, Friesland Foods, who announced that it was ending milk production in Nitra at the end of 2006. At that time, the owner of Tatranská Mliekare? a.s., situated in Kežmarok expressed an interest in the company. The dairy under the Tatras specialises mainly in cheeses whilst Nitra is well known for the production of quality yoghurts, spreads and soured milk drinks. By joining these two production programmes, a complete portfolio of dairy products was established.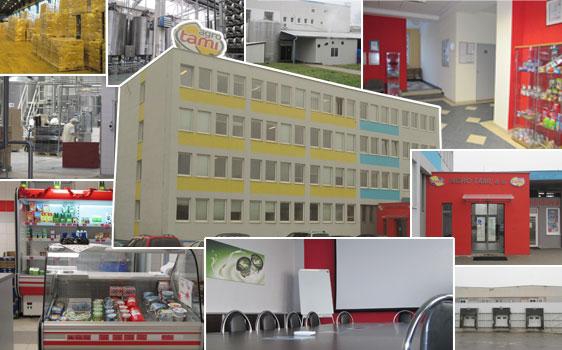 Since 1st June 2007 in the Nitra Dairy, there has been new Slovak management in the company under the name AGRO TAMI, s.r.o. Nitra.

On 26th January 2008, the legal form was changed to a joint stock company.
Certificates
BRC certificate – for many years we have held the BRC certificate as a global guarantee for maintaining a high level of food safety and quality standards.